Not as far as you can throw them
A new report reveals British workers don't trust their bosses. But will anyone be surprised?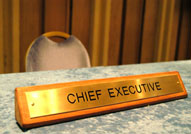 A survey of 5000 UK employees by recruitment consultancy Endaba (which considers itself rather an expert in these matters) discovered that nearly half didn't trust their CEO. Indeed, a large proportion of respondents seemed to feel pretty unloved – nearly 50% felt their CEO didn't care about them, while about 40% felt their contribution wasn't valued. At a time when companies need strong and determined leadership to get through the downturn, this doesn't sound like a particularly healthy state of affairs.
Employees also seem to think that honesty is in short supply among their senior managers. About 40% clamed their CEOs don't say what they mean, while a quarter went even further, suggesting their CEOs weren't honest, weren't truthful and didn't deliver on their promises. And since honesty was rated as the most important characteristic in making a person trustworthy (cited by 83% of respondents), it's no surprise that CEOs are facing a few trust issues with their staff.
Now this might seem like the least of their worries at the moment. But in fact, it may well make their predicament even worse, according to Endaba. 'Where there is low organisational trust, speed and costs are affected, people disengage and productivity drops,' says MD Patrick Egan. 'Diminished trust has a knock-on effect on everything. Relationships with employees, colleagues, suppliers and customers are compromised; confidence plummets – and so does reputation.' (Arguably Endaba would say that, since it's trying to big up its Trust Index, but still).