Not such a jolly holiday for cash-strapped Brits
The number of Brits going abroad has dropped by 15% - but more holidays are being taken here.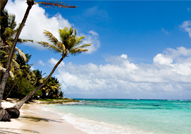 It seems the recession has even managed to creep its way into that which we hold most sacred: namely, trips abroad, which declined by 15% in 2009. Figures out today from the Office of National Statistics have shown a drop of 10.4m overseas visits to just 58.6m a year, the sharpest fall since the 1970s.

Indications are that the likes of Majorca and the South of France are losing their charms to the holidaying public, which is feeling a bit cash-strapped in the aftermath of the recession and is choosing to stay in the UK instead. Well, it's either that or no one told us Butlins has really upped its game.

The biggest recession casualty was business travel, which dropped by nearly a quarter last year, although holidays also suffered. Trips to Mexico fell by 41% (although that could have had something to do with swine flu...), while visits to New Zealand, Portugal and Malta all fell by around a third. In total, we spent £5.1bn less abroad last year – a big number, whichever way you look at it.

The figures pretty much confirm a survey released by tourism authority VisitEngland last year, which showed that during tough times, UK holidaymakers prefer to keep things close to home. We took 18% more 'staycations' last year, which pumped an extra £1bn into the British economy. It's likely that figure will stay fairly similar for this year – or could even grow, when you take into consideration factors like the ash cloud, British Airways strikes, bad weather over the winter and, of course, the weak pound.

That said, the aforementioned exchange rate has given something of an advantage to the British tourism industry. While there's no doubt businesses are still struggling, the exchange rate has encouraged foreign holidaymakers to come over here: the ONS figures showed that while there was a total decline in visits of more than 6%, the number of people who came on holiday here has actually grown by 500,000. Spending also grew from £16.3bn in 2008 to £16.6bn. That's a lot of postcards.

Experts have said Brits are unlikely to begin going abroad in large numbers again until 2012 at the earliest, which will be good news for the British tourism industry, at least. And, for the first time this year, one of the UK's main selling points has been the weather. All of a sudden, 'British Riviera' seems to have quite a pleasant ring to it...
In today's bulletin:

BA, Iberia and AA tie-up earns its wings
Whither Ocado as Fairfield fails to float
Workshy Brits throw 35m sickies a year
Apple drops the call
Not such a jolly holiday for cash-strapped Brits