Do not pass go: The secret history of Monopoly
Devised early in the 20th century, Monopoly was meant to be a warning about land ownership by the few. The boardgame's history makes a fascinating story, says Leslie Scott.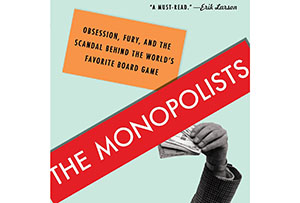 Monopoly turned 80 this year. Check out its website and you'll see that you can celebrate the anniversary with a special edition of the 'classic fast-trading property game that features tokens from 1935 all the way to 2015! With a retro board and cards, the game takes you back to when it all began.' And, by the way, 'Monopoly and all related characters are trademarks of Hasbro'.
And there hangs – or is buried – a tale. A largely unknown tale that journalist Mary Pilon has dug deep to unearth and recount in The Monopolists, taking us back to when she believes it all started.
As a game designer, I've been involved in the toy business for decades, so of course I'm drawn to any story about this industry and to the history of games in particular. But I think anyone in the business of developing and marketing novel products will find Pilon's inside story of Monopoly as compelling a read as I did. Why?