Not-so-happy hours for beleaguered pub industry
A committee of MPs wants to ban happy hours at pubs. Talk about kicking an industry when it's down...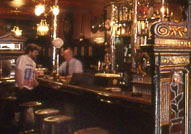 The cross-party Home Affairs Select Committee wants to ban happy hours in a bid to cut down on drunk and disorderly behaviour in Britain's town centres. The MPs argue that dealing with the ensuing chaos at kicking-out time is the biggest single drain on police resources, so reducing the problem would allow them to spend more time looking after deserving punters during the rest of the week. An admirable aim – but at a time when 27 pubs are apparently closing down every week, the timing isn't ideal…
The committee's report was equally (if not more) scathing about supermarkets, which it said were fuelling the problem with their cut-price alcohol promotions – some were even using booze as a loss leader to get people into the stores, it suggested. 'At the moment you have a situation where so much of police time is taken up dealing with alcohol related crime,' chairman Keith Vaz told BBC's Today programme this morning. 'Happy hours lead to unhappy communities. Loss leaders in supermarkets cause real misery to city centres on a Saturday night.'
Indeed, if you believe the pubs, the supermarkets have much more to answer for than they do. A spokesman for the British Beer and Pub Association told the BBC that although his industry had been trying to put its house in order, the supermarkets 'have done nothing but increase their extreme discounting offers'. So in other words, it's actually all their fault – thanks to the supermarkets and their cheap deals, everyone's already legless by the time they get to the pub.