Number of female FTSE directors flat-lines
In the last year, the number of female directors at FTSE 100 companies has risen by precisely zero.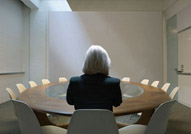 131 directorships at Britain's 100 biggest public companies are currently held by women, according to a new report by the Cranfield School of Management. That's exactly the same as this time last year, and represents a paltry 12% of the total positions available. Some commentators think the crash has indisputably proved that we need more women and fewer men in the boardroom – but thus far, UK plc doesn't seem to be playing ball. Although glass-half-full types may note that more men have lost their directorships this year, so the overall proportion of women in the boardroom has actually gone up...

To some extent, that headline figure actually paints a flattering picture of the current situation, because these 131 positions are shared between 113 women. When you consider that the other 947 positions are shared between 834 men, the extent of the gender disparity becomes very clear. (The situation is particularly bad in banking, where women occupy just 9% of board positions – and look what happened there). And the slightly alarming thing is that the situation is, in some respects, getting worse rather than better: the number of companies with more than one female director fell from 39 to 37, while the number with executive women directors fell from 16 to 15. 'Disappointing,' was the understated conclusion of the report's author Dr Ruth Sealy.

So is the problem just that there aren't enough good candidates available? Dr Sealy reckons not – her figures suggest that the number of women just below board level (executive committees, senior boards, and so on) has jumped more than 20% this year, to 2,281. But that notorious glass ceiling still seems well-glazed. 'The women are there, they're talented and experienced,' she says. 'It's not a lack of supply; it's a lack of demand.'

Still, at least the number of female chief execs is set to rise (admittedly only to five), as Alison Cooper takes the helm at Imperial. And all the talk this year of how hubris contributed to the crash will surely make boardrooms more female-friendly in the future. One issue this year has been that companies have generally been shrinking their boards (partly in recognition of their recent failures) – in which case, the fact that the number of female directors has at least remained steady offers some cause for (very limited) optimism.

In today's bulletin:
Bolland goes out with a bang as Morrisons cashes in
Britain pays recessionary price - and managers turn to crime
MT EXCLUSIVE: In-depth profile of new Marks and Spencer boss Marc Bolland
Number of female FTSE directors flat-lines
A Traveller's Tale: Better times in Paris