O2 aims to give one business an early Appy Christmas
SPONSORED: The mobile phone giant is getting ready to announce the winner of its #mybizzapp Challenge competition.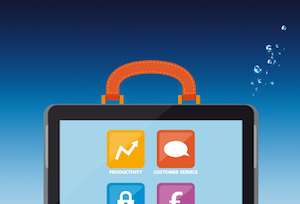 The mobile phone story of the year has been the roll-out of super-fast 4G services across the various phone carriers. In August, it was the turn of O2 to switch on the 4G lights and offer the speedy network coverage to its customers.

To celebrate, O2 decided to run a competition, which would give small businesses a chance to design, build and market their own business services app, with a little help from the experts at O2. Why design an app? Well, anyone who has switched to 4G will know the difference the speedy network can make when using an app – and when you're trying to run a business, having a zippy business app can speed up productivity and every minute counts.

The prize for coming up with the most innovative and beneficial business app, is a whopping £30,000 towards the development of the app, a full day of mentoring from an O2 marketing expert, a chance to beta test the app with O2's business customers and a handy 12 months free 4G with O2.

'Our aim is to help business growth,' said Hominick, head of SMB marketing at O2.

'Our 4G app competition gives us the opportunity to engage our customers in the benefits 4G can bring to them and their business, allowing them to do more. It is through the application of 4G and digital services that its value really comes to life. Our experience also tells us that our customers are incredibly entrepreneurial and innovative and we are excited by the entries we have seen.'

Following a huge number of impressive entries, from a wide range of businesses, the company is getting ready to judge the apps and will announce the winner next week.

For one lucky business it will be a very Appy Christmas indeed.