O2 goes gaga for Gaga
In the war for 4G customers, O2 has just pulled off a coup.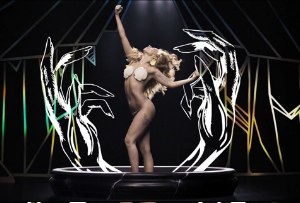 Anyone who saw Lady Gaga's decidedly naked performance on Saturday's X-Factor will know that the exhibitionist popstress is gearing up to launch a new album. She sang, she danced, she wore, in appropriate hallowe'en style, Miley Cyrus' now-famous 'naked outfit': critics' opinions were largely 'ho, hum'.

So in that respect it's not surprising that the star has signed a contract with O2 to make her new album, ARTPOP, available to its customers six days before anyone else. She'll also star in an O2 ad. Arguably one up on Kevin Bacon dragging his shed around in EE's advert…

Obviously, this will appeal to a pretty niche section of O2's audience - but Gaga, who appropriately sang a song called 'Telephone', isn't the first celeb to sign a deal with a phone company. Earlier this year Samsung offered a million owners of its devices Jay-Z's new album for free (although there were technical glitches and privacy issues. We'll gloss over that).

And O2 and Vodafone, which both launched their 4G services on the same day, have battled it out over entertainment bundles: Vodafone customers get a Sky Sports or Spotify package with their 4G contracts, while O2 has music, sports and gaming packages, with the added incentive, now, of Gaga.

Sadly, though, the great lady seems to have had the same experience of mobile telephony as MT: lyrics to Telephone include 'stop callin, stop callin' and 'I have no service', not to mention 'I cannot text you with a drink in my hand'. Let's hope the new album is more embracing of digital technology...