Obama calls for wealthiest Americans to pay more tax
US President Barack Obama has repeated his line on high earners in the US, calling for them to pay more tax.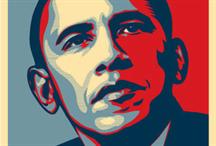 In his first press conference since being re-elected, Obama has called for rapid legislation to prevent tax rises on the $250,000 of income, but has stood firm on denying tax cuts for the wealthiest 2%.
He said: 'We should not hold the middle class hostage while we debate tax cuts for the wealthy.'
The financial situation in the US is in danger of falling off the so-called 'fiscal cliff', where the level of debt and the unwillingness of lenders to continue lending causes automatic tax rises and spending cuts across the board.