Obama cuts pay of bailed-out bosses - will UK follow suit?
President Obama has told top execs of taxpayer-rescued firms to expect pay cuts of up to 90%. Ouch!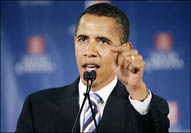 In a move that is likely to send ripples of anxiety speeding across the pond toward London, Obama has hit the most senior 25 employees at Citigroup, Bank of America, American International Group (AIG), GM and Chrysler right where it hurts: in the wallet. No wonder the famously well-remunerated Bob Diamond wasn't interested in the BoA job, as we reported earlier this week.
Until their firms have paid off the billions of dollars of state aid they have received in recent months, the unfortunate top brass of these companies will receive much reduced bonuses, and basic pay slashed to a mere 10% of previous levels. The overall impact of the measures is expected to be an average reduction in take home pay of 50%, but some will see their earnings slashed by an eye-watering 90%.
The only sliver of comfort that these bosses can take is that some of their 'lost' cash will be set aside for them in the form of share allocations – but these will remain inaccessible for several years.