Obama works the guns
Sales of handguns and rifles have apparently gone through the roof since Barack Obama was elected...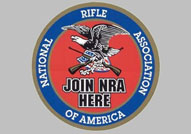 As you may know, a sizeable proportion of Americans consider bearing firearms to be pretty much a fundamental human right, right up there with freedom from oppression, sanitary living conditions and so on. However, it appears that brand-new President-elect Barack Obama is not one of them. So ever since it became clear that he was going to give John McCain a good hiding at the polls, Americans of a certain disposition have been rushing down to their local gun store to stock up on weaponry, terrified by the prospect of their new leader cracking down on their habit.
According to the New York Times, Jim Pruett, who runs a guns and ammo store in Houston called (you guessed it) Jim Pruett's Gun and Ammo, enjoyed a seven-fold boost in sales in the last weekend before the election, as trigger-happy Texans fretted about the new administration. 'He's a gun-snatcher,' said Pruett, ferociously launching a wad of chewed tobacco into the nearest spittoon. 'He wants to take our guns from us and create a socialist society policed by his own police force'. Erm, right.
Terrifying though it may be that this man is licensed to sell guns (and that he used to have his own radio show), he's by no only means the only one to see an upturn in sales. The Times discovered that in Colorado, for example, Sunday was a record day for background check requests, while Montana gun shop owner David Nelson reported a 30% hike in sales. 'People are concerned about overreaching legislation from Washington,' he said. 'They are educating themselves on the Internet.' Very reassuring, we're sure you'll agree.