Obesity hits the bottom line
Companies in the US are getting increasingly worried about the financial impact of obesity amongst their employees. Individuals who are obese are much more likely to develop chronic health problems, a drain on companies' health costs. The question is however: is it really corporations' place to tell their employees what to do?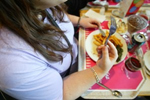 According to studies from the National Business Group on Health, a Washington-based organisation, obesity costs $13 billion a year to US companies. The condition has doubled in the US since 1980, and a report by the National Coalition on Health Care found that obesity had contributed 27% to increased health costs between 1987 and 2001.
Companies have taken a range of initiatives to encourage their staff to maintain healthy lifestyles, mostly in the form of sponsored gym memberships or company facilities. But surveys found that in two-thirds of companies, only 25% of employees used those schemes, and that it wasn't even clear whether participants were fit or not.
Alternatives including weight management programmes, plans to reduce high-fat or high-sugar food in canteens or vending machines as well as fitness schemes can be more effective. But at the end of the day, the onus is still on the individual.
"It's another boundary that's being crossed between the lives of the employees and the interest of the employers," says Peter Cappelli, director of Wharton's Centre for Human Resources. The problem with obesity he argues, is that "unlike smoking - which is clearly bad, not only for the individuals who do it, but for the ones around them - obesity has no effects on the people around you."
This is potentially dangerous as it pushes the barrier of what companies can dabble with further. "As long as employers put their toe in the water and there's no objection, others will follow," Cappelli concludes.
Source: Efforts are growing to trim the fat from employees - and employers' health care costs
Knowledge@Wharton, Nov 1 2006
Review by Emilie Filou