Obsolete at once
The ancient Egyptians built monuments to last, modern consumer society created the disposable razorblade. This was no accident.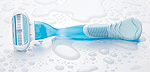 In the early 20th century US firms experimented with throw-away products such as Gillette's disposable razor and Johnson & Johnson's Band-Aids.
Soon the culture of thrift was out of fashion: during the second world war, US stores resisted the government's frugality campaign with signs exclaiming: "Business as Usual. Beware of Thrift and Unwise Economy".
Cellphones are the modern touchstone of waste, with some 130 million of them being 'retired' in the US and with 250,000 tones of still-usable phones awaiting disposal.
In Japan, cellphones are often discarded within a year. The rise of electronic waste containing toxins such as arsenic - TVs, computers, cellphones - can damage the environment, whether they are put into landfill or burnt.
Made to break: are we sinking under the weight of our disposable
society?
Knowledge@Wharton, August 2006