Ocado floats - just - at hefty discount
Shares in Ocado are now in unofficial trading, but only after an eleventh-hour price cut to 180p.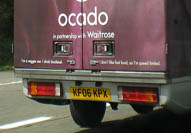 That's 20% down on the bottom end of the original 200p-275p valuation range, and values the firm at some £937m. Substantially less than the £1.3bn that Ocado's bosses have consistently maintained that the firm is worth.
What's more, the stock plummeted even further in unofficial trading, immediately dropping another 10% to 156p. Which rather suggests that the deal only got away because of the support of a few key investors, and that the wider market still thinks the shares are overpriced. Oh dear.
The last minute discount is certainly an embarrassment to the Ocado management, who were adamant that everything was going according to plan – right up to the moment when it wasn't. Chief exec Tim Steiner has even shelved plans to sell his shares at 180p, saying that the float was not about exiting the business but about financing growth.