Ocado shares dive 8% on Waitrose expansion opposition
Expansion plans for the food delivery firm have suffered a blow after Waitrose said it would oppose a tie-up between Ocado and Morrisons.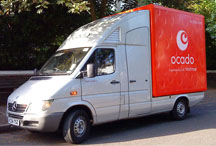 Lawyers for Waitrose are currently trying to work out whether Ocado's plans to share some distribution resources and warehouse space with Morrisons would constitute a breach of contract.
Waitrose MD Mark Price said: 'I would never knowingly sign a contract with Ocado that agreed to them working with another retail competitor.'
With Waitrose putting the brakes on such a deal, it now looks like Ocado would only be able to license its intellectual property out to Morrisons for the supermarket to then do its own infrastructure legwork. That will mean much less dollar for Ocado.