Ocado takes on Waitrose as John Lewis steps back
Ocado and Waitrose will go head-to-head after John Lewis handed its stake to its pension fund...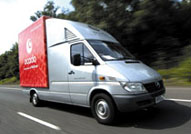 John Lewis is donating its 29% Ocado stake to its pension fund, saying that this was the right time 'to simplify and clarify our relationship with Ocado'. As part of the deal, it has extended its rolling one-year contract with the online grocer into a five-year sourcing deal – scotching rumours that the two were about to part ways completely. However, it also frees up Waitrose's own delivery service to compete directly with Ocado within London. It'll be interesting how this affects their slightly prickly relationship…
John Lewis has been a major backer of Ocado from the earliest days – indeed, its current chairman Charlie Mayfield was the man who initially brokered the deal for Ocado to deliver Waitrose products. However, judging by some of the public comments on both sides, it's been a rather uneasy alliance – Ocado has previously complained that John Lewis was difficult to work with, and the short-term nature of their previous deal was seen by some as a sign that they could end up going their separate ways.
The rather odd situation with Waitrose Deliver has been a case in point. Since Ocado supplies other branded goods as well as Waitrose products, and has its own pricing and distribution strategies, the interests of the two groups are not entirely aligned. So Waitrose has been developing its own wholly-owned delivery business, which is already competing against Ocado directly in some areas of the country. And not on very friendly terms, either: Ocado has claimed to be cheaper than shopping at Waitrose directly, while Waitrose has been boasting about all the products that Ocado doesn't stock. With this new agreement, this competition will only intensify.