Ocado's growth continues to outstrip most of its rivals
The online supermarket is only being beaten by German discounters Aldi and Lidl.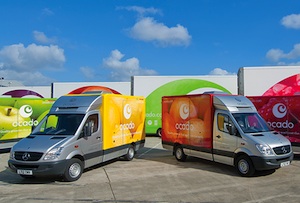 It goes without saying that supermarkets are having a tough time of it lately. While Tesco endures its worst nightmare and the rest of the 'Big Four' (Asda, Morrisons and Sainsbury's) are scratching their heads about what the future holds, discounters Aldi and Lidl are ploughing ahead.

There's another quiet exception to the rule though. Today the online supermarket Ocado released its figures for the four months to November, which showed its group sales hit £311.4m, up 18.6% on the same period last year. This takes its annual growth to 20.4%.

This was partly due to by its recent agreement to handle delivery for Morrisons, which began in January of this year. Stripping out that and other non-retail revenues, annual growth was 15.3%, not quite as good but still not to be sniffed at in such a difficult period for the grocery industry.

'We are pleased with the continued steady growth in our business against the backdrop of a more competitive grocery market,' said Ocado CEO and co-founder Tim Steiner, who added the growth 'further demonstrates the ongoing shift to online grocery shopping.'

It certainly sets Ocado, which employs 8,000 staff and said last month it was recruiting 1,000 more before Christmas, apart from most of its rivals. Only Aldi, which grew by a blistering 35.7% last year, and Lidl, which Kantar Worldpanel estimated last month to be growing at around 16.8%, are beating it on retail sales growth. The news certainly didn't disappoint investors – Ocado's shares opened were up 1.1% to 337.80p this morning.

There are signs it could be feeling some of the grocery price squeeze though, as the average order value fell by 1.7% to £109.74. Whether this is the result of cheaper products, relatively hard-up middle class consumers or just changing shopping habits, remains to be seen.