October public borrowing worse than expected
Deficit reduction doesn't look like Osborne's strong suit anymore, as figures show public sector borrowing hits £8.6bn in October.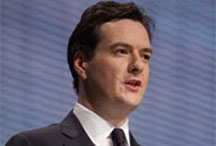 In a blow for the chancellor's credibility on fiscal discipline, the Office for National Statistics (ONS) today revealed that government borrowing in October was £8.6bn, considerably higher than expected. Analysts were forecasting just £6bn of borrowing for the period, and that would have meant borrowing did not increase compared with the previous October. But alas, the borrowing has risen year-on-year.
The other side of the coin, tax take, wasn't encouraging either. Corporation tax receipts took a severe plunge, down 10% compared with the same period the previous year. This, combined with increased day-to-day spending in government departments means that in the seven months of the financial year so far, public borrowing is £5bn higher than it was in the same period from 2011-2012.
But when the national debt is over a trillion pounds and we've still got our AAA credit rating, does an extra £5bn matter, you might ask? Well, yes really. Moody's ratings agency has already warned that it will review the UK's top-end credit rating early next year, and George Osborne will now face further political pressure to change course. This was the last set of borrowing results before his Autumn Statement, due next month, and austerity will be increasingly hard to justify when borrowing seems to keep rising anyway.