'Of course Icahn make Apple pay out $50bn', says activist investor
Carl Icahn has written a 3,000 word letter to shareholders, arguing for a massive share buyback - as Microsoft reports encouraging profits.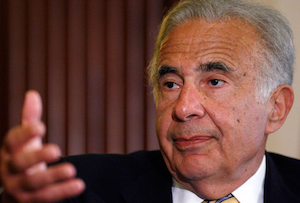 Carl Icahn is, as ever, the man with the plan. The activist investor, noted for his combative style, has not only raised his stake in Apple to $1bn ('bought another $500mil of $AAPL tday,' he tweeted casually), but he's also written a 3,000-word letter (that's seven pages or about 1,285 tweets, in case you were interested) to the company's shareholders arguing for a $50bn (£30bn) share buyback scheme.

Icahn's purchase means he now has a $3.6bn stake in Apple, or 0.7% of the company (which has a $500bn market cap). Not surprisingly, shares in the electronics manufacturer rose 0.9% after his tweet.

Apple may have quasi-religious status among its disciples, but Icahn is under no such illusion. In his letter to shareholders, he said the company, which has cash reserves of $147bn (10% of all the cash held by non-financial companies in the US, according to Moody's), should give back to its shareholders by borrowing against its cash reserves and $40bn annual earnings forecast and begin a share buyback scheme – before its fiscal year ends in September.

Sounds like a lot, but to be fair, he's lowered his expectations rather a lot since last time he harangued Apple's board: back in December, he called for $150bn to be returned to shareholders. Investors will be given the chance to vote on the proposal at Apple's annual meeting next month. Apple has, not surprisingly, recommended they vote against it - although by all accounts, shareholders are starting to get antsy as they await their slice of Apple's pie. iPie. Whatever.

Meanwhile, over at rival Microsoft, things are going rather well: fresh from announcing that it's going to hit the 'delete' key on the much-maligned Windows 8, the company has posted revenues of $24.5bn, beating analyst expectations of $23.7bn.

That quelled fears from Wall Street, which had worried that the departure of chief exec Steve Ballmer would have a negative impact. But, as it turns out, shares have risen more than 30% over the past year. Time for Microsoft to put Apple in its place? Stranger things have happened.