Ofcom backs Channel 4/ BBC Worldwide merger
The regulator has backed a merger for Channel 4 - and questioned the public-service broadcasting model...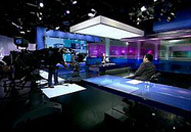 Ofcom has finally published its long-awaited report on the future of public-service broadcasting in the UK – and it's not very cheery reading (not least because it's a doorstop-friendly 130 pages long). The regulator reckons that the existing model of all the UK's commercial stations is basically defunct, requiring some 'difficult choices to be made'. Top of the agenda was the future of ailing Channel 4 – and Ofcom seems to think a merger with BBC Worldwide, Auntie's commercial arm, is just about the best option. Although the BBC might beg to differ…
What's clear to everyone is that Channel 4 can't survive for long in its current form. The publicly-funded broadcaster reckons it will make an annual loss of £150m by 2012 – and although Ofcom was a bit more optimistic (it reckons the loss will be less than £100m), it still believes, not unreasonably, that it's 'no longer sustainable'. However, since Channel Four is best-placed to offer a 'strong, alternative public service voice to the BBC,' Ofcom thinks it's worth saving (as opposed to letting it run down, or flogging it to the private sector).
It ruled out allocating a portion of the licence-fee (known as 'top-slicing'), to avoid the BBC losing out, arguing instead that the best bet will be some kind of partnership, joint venture or merger. The most sensible option, it concluded, was a closer tie-up with the profit-making BBC Worldwide. A merger with Five, owned by German media group RTL, is also possible – but Ofcom thinks there may be competition issues, and it would also require a complete overhaul of the regulatory framework, to balance its commercial needs with its public service remit.