Ofcom still unsure on Sky probe
So is Sky unfairly trampling on its pay-TV competitors or not? Ofcom's latest pronouncement suggests that they're not entirely sure...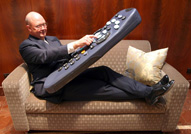 In a classic display of fence-sitting, the regulator has published its findings on the industry – and said that it needs more input from those in the market before deciding whether to extend its investigation.
Perhaps in an attempt to spread some Christmas cheer, it's not bowing to rivals' demands to clip Sky's wings – or at least not yet. Instead it's hedging its bets: it thinks that pay-TV has delivered 'significant benefits' to its 11m subscribers, but accepted that there were some 'warning signs… such as areas where consumer choice may be limited.
Ofcom was forced into an investigation by a complaint about Sky from the likes of BT, Virgin Media and Setanta Sport, who ran to teacher alleging that the big boy was bullying them. They suggested that Sky was preventing competition by cornering the market for premium content and then charging exorbitant amounts for others to re-show it. They want a Competition Commission enquiry, to force Sky to play nicely.