Are you the office 'Barry'?
SPONSORED: Think health and safety rules are one big joke? Think again.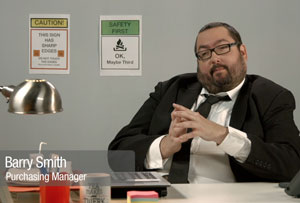 The term 'health and safety' has many bosses weeping into their tea. It's a bureaucratic nightmare, they say. It's just for jobsworths. And it gets in the way of doing real business.
They've heard the ridiculous stories about cafes refusing to heat up baby food, golf courses banning golf buggies, airline passengers being told they can't suck boiled sweets and trapeze artists being ordered to wear hard hats. All in the name of health and safety.
But these daft decisions and over-interpretation of legitimate guidelines trivialise what health and safety is really about: looking after the long-term health and wellbeing of your employees.