Offices workers 'should stand for four hours a day'
A new review of evidence says desk-bound workers should get on their feet.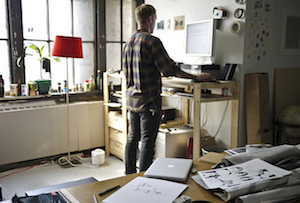 Standing up in the office is increasingly becoming A Thing, with on-your feet meetings held up as a way to cut down on pointlessly long discussions, the British Heart Foundation calling for workers to 'stand up to heart disease' (groan) and office design company Peldon Rose including 'sit-stand' desks on a list of ways the workplace can 'boost creativity' on MT only this morning.
And it seems it's not just a Scandinavian fad. Desk-bound workers should be spending at least two hours of the working day on their feet, and ideally four, according to a review of existing evidence in the British Journal of Sports Medicine.
Office workers spend 65-75% of their working day in a chair, more than half of which is built up in long periods sitting, the study, commissioned by Public Health England and Active Working said. That puts them at higher risk of diabetes, heart disease and possibly even premature death.