OFT probes online pricing
The OFT has its microscope out again - but this time it's focused on retailers.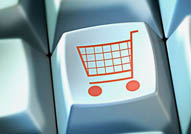 Just a few weeks after slapping the construction industry with a record £130m fine for bid-rigging, the OFT has turned its attention to retail and announced two new reports: one into online practices, the other into the advertising of prices.
The first study, set for next spring, will look at how companies use information about consumers' web habits to tailor prices and target online advertising; while the second, due out in the summer, will delve into the potentially 'misleading' advertising of deals, both online and offline.