Oh how we laughed: the top ten April Fool's of 2013
Did you fall for Branson's glass-bottomed plane joke? Or Google's new smell search feature, Google Nose? Here are the top ten gags and gases that had you wondering on 1 April.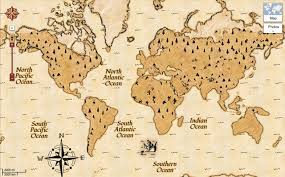 Ah, April Fool's. The one day of the year when media outlets and corporations can spout utter blarney to the general public without fear of reprisal. MT has scoured the web, pored over press releases and perused the newspapers to bring you the top ten April Fools from 2013.
1. Google Nose
The search giant yesterday unveiled plans for a 'new scentsation in search', Google Nose. The service is still in beta mode, admitted Google, but its 'aromabase' of more than 15 million 'scentibytes' is sure to entertain, featuring such wondrous odors as airport terminal, used napkin and wet dog. Safesearch included to protect you from nasty odours...
Google also turned its Google Maps feature into a treasure map (pictured above) and showed users of Google Analytics that 41 people were viewing their website from the International Space Station.