Is an oil price recovery in sight?
OPEC may take heart that US production is starting to fall, but its days as oil's price-setter are numbered.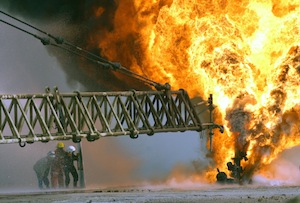 The world's most famous cartel is getting desperate. The 18-month oil price war has taken a heavy toll on the OPEC nations' finances. Earlier in January, the Saudis suggested selling off the family silver to pay for their 15% budget deficit, and now OPEC is reaching out to the Russians to coordinate a production cut.
'Tough times requires tough choices,' said Opec secretary-general Abdullah al-Badri at a speech in London. 'It is crucial that all major producers sit down and come up with a solution.' He wasn't talking to the Americans, who funnily enough don't let the state control oil output. All eyes naturally turned to the Russians, who have yet to RSVP to this invitation for a pow-wow.
And why would they? Vladimir Putin and the OPEC sheikhs both use their energy resources as much for political clout as for financing their budgets, but their political objectives don't match. Besides, if both OPEC and Russia cut production, who really wins but the Americans?