Could the oil price slump lead to a North Sea collapse?
Industry figures have warned of a 'huge crisis' after Brent Crude fell below $60 a barrel.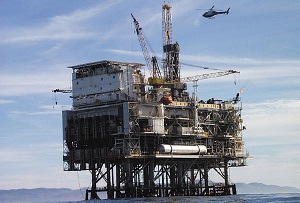 Much of the talk about the rapid slump in oil that has plagued the world of late has focused on the impact on Russia, which is seriously feeling the heat. The reality is that the ill-effects of the below-$60 (£38) barrels of oil could strike much closer to home, as industry figures have warned Britain's North Sea oil industry, which employs hundreds of thousands of people, is 'close to collapse'.

Robin Allan, chairman of the independent explorers' association, Brindex, told the BBC, 'it's almost impossible to make money at these oil prices', and that producers would be slashing projects and jobs in an effort to adapt to the new lower price.

'It's close to collapse,' Allan, who is also a director of Premier Oil, said. 'In terms of new investments – there will be none, everyone is retreating, people are being laid off at most companies this week and in the coming weeks. Budgets for 2015 are being cut by everyone.'

There's certainly some evidence to back up what he is saying. The American firm ConocoPhilips is cutting 230 of its 1,650 UK jobs and Apache, one of the North Sea's biggest producers, will cut its contractors' wages by 10% in January. BP and Shell are also cutting pay.

But industry veteran Sir Ian Wood, founder and former chairman of The Wood Group, warned against apocalyptic rhetoric. He told the BBC that job losses of around 5% are to be expected, but that talk of the industry's impending doom was 'well over the top and far too dramatic'.

Perhaps Allan was talking a bit hyperbolically in a bid to encourage Government intervention. Yesterday, Scotland's first minister Nicola Sturgeon said the devolved parliament should unite to call for greater support for the industry from Westminster. Increasingly loud voices from within the industry are likely to boost her case.

Regardless of whether the industry is in meltdown, there is definitely a clear problem and it's likely to be the smallest companies that suffer the most. Without the reserves and diversification that their rivals enjoy, small service companies in particular could run out of things to cut. The slump is also likely to hit companies like Ineos, which bet a lot of money on shale gas, and also renewable energy alternative which now look a lot more expensive by comparison.