The old and the new
Turns out that it's not only celluloid superheroes Fantastic Four who have to contend with the Rise of the Silver Surfer. Consumer businesses are also waking up to a new target market, with Saga the latest to launch an online product aimed squarely at the more mature internet user.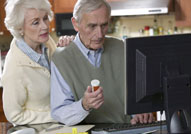 The company best known for its over-50s holidays has launched Saga Zone, a social networking site for customers with time on their hands (and an aversion to being poked by US college students on Facebook). In four months it has already signed up 13,000 users, who can now go online to create a profile, contact friends and join chat room discussions on everything from gardening to spiritualism, cooking and sex.
If the idea of your Gran actually working out how to turn a computer on – let alone blogging about her petunias or getting relationship advice in an online forum – is a bit hard to imagine, you're clearly behind the times. The over-50s now account for almost a third of all time spent online in the UK (cynics might suggest this is because it takes them so much longer to find everything) – while one in six pensioners is now hooked up to the web.
So the older generation is becoming big business. With plenty of leisure time and disposable income, and a growing familiarity with technology (three-quarters of over-50s now buy holidays and books online), they represent a potentially huge market. Ask games company Nintendo, who is producing games for its new Wii console aimed at the elderly. Or the Post Office, whose new broadband services is also targeting this niche.