Older workers not ready to hit the beach yet, says report
Many employees want to work past retirement - if only employers encouraged it, says new research.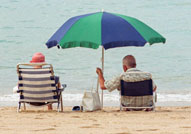 The report, from the Institute of Employment Studies and the Policy Studies Institute, found that unless employees suggest staying on past retirement age, employers tend to assume that they don't want to. And presumably employees often don't ask for fear of rejection – no-one like to be told they are past it after all.
And yet as the population ages, the economic rationale for working on past retirement age becomes ever more pressing for employer and employee alike. To say nothing of the benefits of age diversity in the workplace – wisdom, experience, a lifetime of knowledge, that kind of thing.
The problem is compounded by employers' reluctance to raise the issue, often stemming from unwillingness to set a precedent that all workers may then come to expect. Others avoid discussing age with employees, for fear of causing offence.