O'Leary scoffs at climate change
Michael O'Leary may be planning to stand down in a few years, but he's unlikely to be turning his hand to politics. The outspoken Ryanair boss has waded into the climate change debate in his usual measured way, dismissing it as 'a middle-class mid-life crisis.'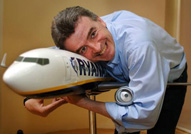 O'Leary was speaking to the Guardian after reporting record profits – 24% higher than last year – and a 20% rise in passenger numbers. So you'd have expected him to be in a good mood. But suggestions that climate change concerns could threaten this progress met with a typically bullish response.
It was 'complete bloody nonsense' to target the aviation industry, he told the paper, since it only produces 2% of the world's emissions. 'China and India are laughing at us while they build more coal-fired power stations. The European middle classes are having a mid-life crisis and the sooner we wake up and say so the better,' he continued, suggesting he's not a big Al Gore fan.
You're always guaranteed fireworks with O'Leary, whose remarkable career we've been following for a long time. (In fact, an MT article five years ago prompted a Penguin book, 'Michael O'Leary: A Life in Full Flight' – you can read our review here).