Be 'on trend' this December with Trends+
Our sister title Marketing magazine is hosting a one-day event for all you marketing whizzes, ad folk, super strategists and product developers.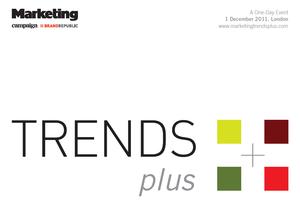 Trends+ is taking place on December 1 in London's West End. The day is packed with top-notch speakers, lively panel discussions and networking opportunities. Hear from the marketing glitterati at Saatchi & Saatchi and Now, the neuroscience boffins from Neurosense, Google's tech wunderkindt, and the crystal-ball gazers of Global Futures and Foresight and trendwatching.com.
There are four key topics that will be explored throughout the day:
• Politics
How are changing views and perceptions of government, policy-making, and citizenship affecting consumer habits and expectations?