Only one in 20 bosses is a 'good leader'
In a damning assessment of today's business leaders, a new poll of 2,000 workers by management consultancy Orion Partners has found that just 4.8% of staff believe in their bosses' leadership.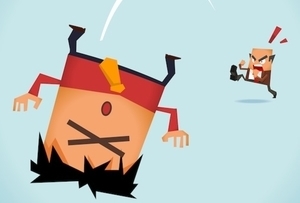 The study asked staff to grade their bosses on a number of criteria: whether they incentivised using threat or reward; whether they effectively managed change; were empathetic leaders; or were self-aware. Bosses that failed on all counts were labelled 'brain fried' by the study - not the most scientific of labels, but it gets the point across. Overall, 24% of employees categorised the leader of their current organisation as brain fried: over-stressed, poor communicators, who lacked empathy with their employees. Ouch.

So what are these leaders doing wrong? Almost half (47%) of the employees Orion surveyed said that the leaders of their organisation made them feel threatened, rather than rewarded in their jobs. And, when asked 'When your organisation needs to change are you made aware of why it is good for you personally?' just 35% of employees say they were.
Demonstrating empathy as a leader helps employees feel they are understood and appreciated. But 85% of employees polled in Orion's survey said that the leader of their current organisation was more interested in what they do – rather than how they are feeling. Lastly, only 33% of surveyed employees said that their leaders demonstrated self-awareness.
The message from the research is clear. To be a better leader, use less stick and more carrot. Take the time to explain to staff - individually, if possible - the benefits to them personally when going through a period of change. Try to remember that when working with people, not robots, there are emotions involved and to be sensitive to that. A lastly, to be aware of your own strengths and failings.