One in eight Brits were actually born abroad
The UK has just been upgraded from 'multi-cultural' nation to 'mostly immigrant', according to the latest Census. The overseas-born population has increased by 2.9 million over the decade to 2011.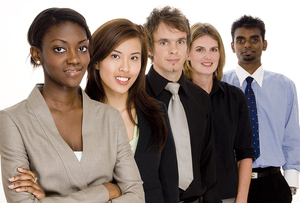 So where are the new British citizens hailing from? India, Poland and Pakistan are the top three countries from whence overseas-born residents are sprung, with Poland taking the top spot, according to the Office for National Statistics.

There has also been a marked change in the religious preferences of the Great British public. As of 2011, there are 2.7 million Muslims, up from 1.55 million in 2001. This means that Muslims now make up 5% of the population, compared with 3% in 2001. Christianity hasn't fared quite as well: the number of Christians of all denominations has fallen a substantial 12% over the last decade, a drop of 4.1 million.

According to the data, Tower Hamlets in London is the least Christian place in the UK (so don't expect much door-to-door carolling this Christmas), while Knowsley in Merseyside has highest density of Christians.

Christianity isn't the only religion taking a battering - gods of all shapes and sizes are losing their flocks. According to the Census, 14 million people classify themselves as 'not religious' up from 6.4 million over the decade. It seems that Generation Y is leading the atheist charge: the student enclaves of Brighton and Norwich had the highest proportion of non-believers and had less than 40% religious affiliation of any kind.
Guy Goodwin, census director at ONS, says, 'Today we are painting a picture of our society, where we are born, our ethnicity, our religion, our health and much, much more. [It's] a picture of big change since 2011 and a population that is increasingly diverse.'
In total, the 2011 population of England and Wales reached 56.1 million, an increase of 3.7 million (7%) since 2001. Of that growth, 55% was due to migration, the rest was due to more births than deaths, says the ONS. According to the census, two million households (12%) in England and Wales said they had members who were of different ethnic groups, three percentage points more than in 2001.

London is, unsurprisingly, the diversity capital of the UK with both the largest proportion of residents born outside the UK (37%) and non-UK nationals (24%.) Interestingly, in the multi-million pound property parade that is the borough of Kensington and Chelsea, more than four in 10 people - the highest proportion in the country - do not hold UK passports.