One in five tell porkies on their CV, study finds
A survey of 25,000 people has found that a fifth of all jobseekers would lie on their CV if they thought it might impress their prospective boss.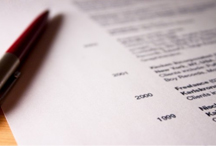 The research, conducted by jobsite Staffbay, found that amongst the liars, most would do it in an attempt to differentiate themselves from other applicants.
The founder of Staffbay, Tony Wilmot, said: 'Obviously, these figures are shocking, but with as many as 80 people chasing the same job it's hardly surprising that some jobseekers are prepared to bend the rules a little to enter the world of work.
'It's pleasing to see that 80% of the jobseekers we surveyed are honest, but what is very apparent from this results is the need for those seeking work to differentiate themselves.'