One to Watch: Alan Mak of Magic Breakfast
FUTURE LEADERS AWARDS: In our search for the rising stars of sustainability, Alan Mak, the president of school breakfast club charity Magic Breakfast, wins the Corporate Ace category for his 'outstanding' work in schools.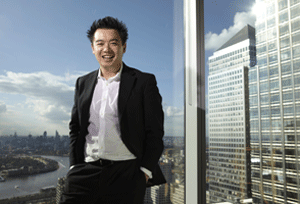 The term 'high flyer' was surely coined to describe Alan Mak. He is president of school breakfast club charity Magic Breakfast, and is a member of the global advisory board of the sustainability and leadership summit One Young World. Oh - and he holds down a high-pressure job as a corporate lawyer at City firm Clifford Chance. The 28-year-old son of Chinese immigrants could not be a more deserving recipient of this award. 'Alan was inspirational,' says judge Carl Gilleard. Jonathon Porritt concurs: 'He was absolutely outstanding.'
Mak says his interest in being involved with Magic Breakfast came from his childhood experience of going hungry. The charity feeds 6,000 children in 210 schools across the UK every morning and is financed by donations. The charity not only delivers healthy breakfasts, it has also started to offer finance and social enterprise support to its partner schools to create economically viable breakfast clubs.
'Working with children has taught me that my generation has a great responsibility, and a great opportunity to be a good steward of our world, and to pass on a stronger society and a cleaner planet, not just a successful economy,' explains Mak. 'Putting sustainability at the heart of our decision-making, our careers and our lives is the only way to turn that into reality. It's up to us - and I am determined to lead my generation's work.'