ONE YEAR ON: 'They may as well have built the Olympic Park on the moon'
Lance Forman, owner of the closest business to the Olympic Stadium, says London 2012 created a 'Disney-style bubble' which didn't help local businesses.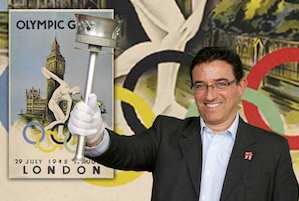 'How can you regenerate an area by building a Disneyland-style bubble in it and not letting people get out and explore the area? They may as well have built the Olympic Park on the moon – and I'm certainly not the only one who feels this way,' says Lance Forman, chief executive of H Forman & Son.

'My overriding impression of the International Olympic Committee is it is a private club for members and sponsors, going around looking after themselves and putting on a circus. It goes around destroying cities, playing on their national pride, but at what cost?'

H Forman & Son is a salmon smoking business based in Hackney Wick's Fish Island. Its complex, which includes a smoking factory, restaurant and gallery space, was, according to Mr Forman, 'the closest a commercial building has ever been to an Olympic Stadium'. It sounded like a dream come true. During the Games, Lance Forman should have been fighting off business with a stick.

'Financially it was a huge disaster,' says the family business owner.

Forman is not alone. A study by AXA Insurance has found only 2% of the small businesses polled by the insurance giant had seen positive effects in the year since the Games. A mere 15% felt the Olympics had been positive for business and only 13% thought it had been positive during and after the Games. Despite AXA's press team spinning the study with relentless positivity, (would you believe the pitiful amount of positive sentiment expressed this year is three times the amount that was expressed by businesses last year), it certainly isn't good news for the London Legacy Development Corporation.

'Jeremy Hunt, Seb Coe and various Olympic committees insisted the London Olympics were about regeneration, but going by the way they behaved, they had no interest in east London at all,' says Forman.

Admittedly, Forman has been through the mill. In 1998, his factory was gutted by a fire, and shortly after its refurbishment in 2000, it was destroyed by a flood. Settled in his third factory in as many years for just 12 months (aided by funding from the London Development Agency), Forman read in a newspaper that the Olympic Park was to be built in the same spot as his business. He and 250 other firms were to be displaced.

'The area was a thriving hub of manufacturing, but it was portrayed by Tessa Jowell and pals as a derelict wasteland,' he tells MT.

What followed was an incredibly painful government compulsory purchase order (CPO) process, which cost many Hackney Wick manufacturing businesses dearly.

'Around 75 of the 250 closed down, and many couldn't get compensation,' says Forman.

Forman's salmon smoking business, which claims to be the oldest in the UK, managed to come out of the CPO process in tact. Forman managed to rebuild his premises not far from its original position: he even added some of his own cash to the compensation pot to create a mammoth venue, its design resembling a huge salmon, on the banks of the river Lee. To observers, it looked like a major coup.
H Forman & Son Image: Flickr Diamond Geezer