Online black market in the pink
Crime does pay, apparently: the internet's underground economy is 'recession-proof' and worth $7bn.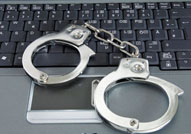 A new report from Symantec is the first to quantify the scale of the illicit online economy, one where Russian and East European gangs run mass-produced credit card scams, and card details swap hands on exclusive chat forums for as little as 7p. If that all sounds remarkably well-organised, you'd be right: Symantec describes it as a 'genuine marketplace' that is 'apeing real business models'.
The company monitored the world's servers over the past year and found more than 69,000 fraudsters advertising their services, sending 44,321,095 messages to underground forums. Credit card numbers were the most popular item on sale, comprising 31% of all the goods on offer, while bank details made up 20%.
So how did Symantec manage to get a total sum for such a shadowy world? The $7bn figure comes from multiplying the average amount of used on a stolen card, $350, by the total number of cards it saw being put up for sale. Added to that, Symantec reckons that fraudsters plundering all the bank accounts offered for sale would net up to $1.7bn. While the figures aren't entirely accurate - many of the cards offered may be invalid, or accounts closed - Symantec said it is 'indicative' of the 'potential worth of the market'.