Online pirates face letter of the law
The music industry has a cunning plan to thwart pesky file-sharers: post them a stiff warning.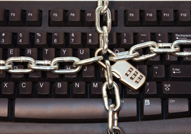 The agreement is between the Government, the music industry and six leading ISPs. When put into action, it will see hundreds of thousands of warning letters sent to web users suspected of illegally sharing music online. (Does the online generation actually read letters these days?) BT, Virgin, Orange, Tiscali, BSkyB and Carphone Warehouse have all signed up to the agreement, but have resisted the more draconian measures recommended by music industry fat cats, who want people's internet access cut off if they ignore repeated warnings.
The plan commits the firms to working towards a 'significant reduction' in the illegal sharing of music. It also commits the net firms to develop legal music services. In 2007 there were approximately 7.5 billion songs illegally shared.
This is a new twist to the story of rock 'n' roll, which has always been the refuge of the rebel, and where anti-establishment action has been virtually obligatory. In years gone by, some of us wore blue Mohican haircuts, some of us tore up cinema seats (daddy-o), and some of us merely tape-recorded our favourite music and swapped it with our mates for free. But nowadays, the rock 'n' roll rebel is more likely to be wired up to the web, conversant in the latest internet technology, and almost wholly to blame for the 8 per cent decline in global music sales in 2007.