Ooh la la: French run new £16bn nuclear plant
The UK may have pioneered nuclear power - but a consortium of French and Chinese investors are now in charge.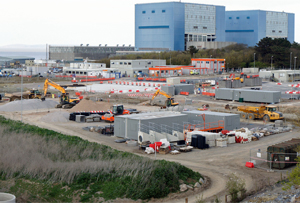 It's an obvious irony that the country which pioneered nuclear power (the Queen opened Calder Hall, the world's first commercial nuclear power station, in October 1956) is now relying on the combined forces of a communist government and the European nation we most love to hate, to keep the lights on.

Oh, how the mighty fall. David Cameron may reckon the deal the government has struck with a consortium of French firm EDF Energy, China National Nuclear Corporation and China General Nuclear Power Corporation to build a £16bn nuclear power station at Hinckley Point in Somerset is 'brilliant news' – but not everyone agrees.

Cameron and the energy minister, Ed Davey, insisted the new power station – the UK's first nuclear plant since 1995 – will create 25,000 jobs, providing 7% of the UK's electricity and helping to lower bills by £77 a year once it's completed in 2023.

In return, the government has guaranteed EDF and its partners a 'strike price' – ie. a minimum payment – of £92.50 per megawatt hour of energy produced for the first 35 years of the plant's life. That's almost 50% higher than current wholesale energy market prices – but it's a lot less than the £100 EDF is originally said to have wanted (although the government originally wanted £50 - so it's a lot nearer EDF's starting point).

Panorama of the current Hinkley Point site
And if the consortium then goes on to build another plant, at Sizewell in Suffolk, that strike price will be reduced to £89.50, which takes into account the fact that the cost of building a 'first of its kind' power station is a lot more expensive.

Obviously, complaints over the deal can be put into two categories: the anti-nuclear lobby and national pride.

On the former, the government's argument is that if we are to wean ourselves off coal power and onto energy that doesn't pump out thick clouds of carbon, nuclear is the only cost-effective answer (don't, whatever you do, suggest offshore wind. The energy literati will only laugh…).

On the latter, we only need to point to a report published at the end of June by energy regulator Ofgem to show that unless something's done soon to increase the UK's energy capacity, we're at serious risk of blackouts. As it stands – even with the Hinkley Point deal – we're likely to have some power cuts. And neither UK companies nor the UK government have the cash to invest heavily in new infrastructure.

To be fair to the government, it's managed to get the consortium to agree to pretty strict terms: not only is EDF et al responsible for delivering the project on time and to budget (they'll have to meet the costs if it goes over), but if the project comes in under-budget, they'll 'share' the savings with British taxpayers. Sounds pretty advantageous to us.

But you can't ignore that the very fact the UK government had to proffer its begging bowl at its Chinese and French competitors is a) a bit embarrassing and b) the result of a long series of bad decisions.

Having failed to invest in energy infrastructure for years, it then panicked and spent heavily on offshore wind-farms during the early noughties, which are now being seen as not really worth the money. Now energy companies are jacking their prices up because more and more of the UK's energy is being brought in from abroad. In the long-term, we were always going to be up the proverbial creek.

So the UK has had to become very comfortable selling off its 'crown jewels'. Whether the French and the Chinese are the right partners is another question altogether. This could just end up being another of the government's dodgy energy decisions…
Still: if you're interested, here's a CGI walkthrough of the new power station: