Opendesk interview: Meet the entrepreneurs changing the way you buy furniture
Opendesk connects customers with designers and local manufacturers.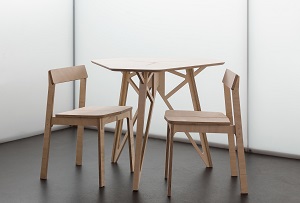 Britain's manufacturing sector isn't as stable as it once was - just ask one of 2,200 steel workers that have just been chucked on the scrapheap in Redcar. But, while heavy industry has struggled with competition from developing markets, new methods of production and a desire for shorter lead times means there is a big opportunity for domestic production to rise again.
London start-up Opendesk wants to be in the vanguard of that shift. Founded in 2013, the company connects customers looking for new furniture to designers all over the world and manufacturers in their back yard. For instance you might spot a chair on their website that has been dreamed up by a designer in Tokyo, but be able to get it made just down in the road in Bristol.
'We grew out of this idea of exploring what the web and the new means of digital production would do to furniture design and manufacturing,' says co-founder Nick Ierodiaconou, Opendesk's head of product.