OPINION: My first failed business is my badge of honour
It took me a long time to talk about why my first business failed, says Faisal Butt. But analysing why it didn't work is important.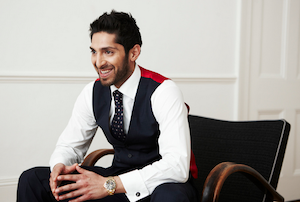 In some ways your first business is like your first girlfriend – and your first business failure is a lot like your first breakup. It leaves a permanent imprint and teaches you some deeply rooted life lessons. My experience with my first business had such a lasting impact on me that – until recently – I found it difficult to reminisce and talk about it. Setting up my own business at only 25 was a risk, and even though it eventually ended in failure, the experience has left me with valuable battle scars and intrinsic commercial savvy that help me navigate through the business world today.
My first breakup
I was stuck in the most uninspiring job and didn't feel like I was tackling any big 'world' problems. I felt – as an inherent entrepreneur and 'change-maker' – that I had to do something more impactful. As someone who grew up on three different continents, I came up with an idea that married my tech passion with my internationalism. My business, which I called Tribal Monsoon to imply the change I was about to bring about, would help stimulate export trade in developing countries – through a cross-border e-commerce platform – connecting cottage industries in south Asia with global markets.

This was back in the days of Web 1.0 and around the time that eBay, Amazon, and Alibaba really started to take off. The business could have been huge, but unfortunately it didn't turn out that way. There were a lot of big challenges that made it difficult to create a profitable business, but what I did get was a lot of acclaim for trying to tackle a big social problem through technology. I employed hundreds of artisans to meet high-volume international orders and won awards for entrepreneurship, which ultimately led me down my current path as a venture capitalist in London.
Lesson one: assess the scale of the opportunity
Before you set up your business, look at the size of the market and assess the direction it's heading in. Look at the last five years of accounts for the top 10 businesses in your sector.

A simple check of how turnover and profit has changed over that period will help you to see whether it's a growing market and how big the margins are. My strategy professor at Oxford called it the 'Fat Rabbit' approach. You need to look for a lucrative market where the margins are fat. Just by being in that market, you've already secured one of the key components of growth and success. I recently looked at a business which seemed interesting on the surface, but when I looked at its competitors, I quickly discovered that only one had revenues in excess of £10m and there was a reason for it.

This is definitely an area where I went wrong. I went into an industry which had some inherent challenges – quality control and logistics being the main ones. I failed to anticipate how challenging it would be to safely transport delicate handmade products from one part of the world to another. A proper due diligence exercise would have exposed this as a major business risk that eroded margins.