Organising as nature intended
Basic human needs originating in our prehistory could be the key to a revolution in workplace organisation, according to Nigel Nicholson, professor of organisational behaviour at London Business School.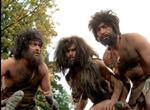 In a chapter written for a new book, Workplace Wake-up Call: Your Workforce is Changing, Nicholson analyses four elements of human nature that are decisive factors in optimising business performance. These are thinking/feeling; interpersonal relations; organisational/cultural forms and human types and differences.
Our natural psychological capacity is to function in networks of up to 150 persons, beyond which the group tends to break down. People have evolved to be status conscious but we prefer fluid hierarchies to the rigid ones that are commonplace in business. This insights leads to some conclusions for organisations.
Individual differences and talents should be reflected in appropriate positions for each person in the work group.
Email is no substitute for personal contact, given that we are social beings with a need for interpersonal contact.
Management needs to take account of the human tendency toward sociability, emotion and gossip particularly in large organisations, where networks of influence politics and personal prejudice are inevitable. A conscious effort is required to engender diversity and overcome the tendency toward monocultural clusters.
The key to keeping a workforce happy - and none of these are easy to achieve - is a spirit of unity and extended kinship within the organisation; a leadership ethos of service to the organisation as a community; promotion of diversity; interactive and face-to-face management; developing a positive ethos that celebrates achievement, identity and history; and most important, do not rely on spending power to prove you are the best.
As in society at large, fulfilled workforces are those that feel their individual contributions make a difference and that, what ever their role is, each person is respected as a member of the community.
Source:
Workplace Wake-up Call: Your Workforce is Changing
Nigel Nicholson
London Business School
Review by Joe Gill