Osborne announces ring-fencing plans for banks
The chancellor will today announce proposals for changes in banking which would offer better protection to savers.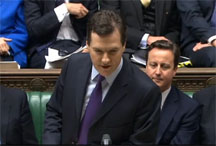 George Osborne will today reveal his White Paper on banking reform, which is expected to include measures for protecting the public who have savings invested in the major retail banks. The main measure will be to ring-fence high street retail banking, meaning that investment banking arms of major institutions will not be able to use consumers' savings as an investment fund for their more risky trading operations.
The recommendations are built on the findings by the Independent Commission on Banking (ICB) which was set up by the government to investigate how financial services in the UK could be made safer following the near-collapse of several major banks back in 2008. But the banking community is angry at the proposals that will essentially make it harder for them to access enough cash for the big money-making investments. They say that the reforms could have consequences for the wider economy, too.
In response to the outcry, Osborne is thought to be considering allowing a broader range of financial hocus pocus to go on inside the 'ring fence', including instruments which could help the banks protect themselves against changes in interest rates or currency inflation. We just wonder if such allowances weren't the reason why the whole PPI mis-selling malarkey reared its ugly head…