Osborne courts entrepreneurs with NI holiday
Under a new Tory proposal, start-up businesses won't have to pay NI on their first ten employees...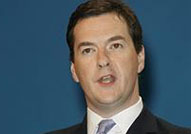 As the Conservative party conference got underway in Manchester on Monday, Shadow Chancellor's George Osborne's first treat for the assembled hordes was a new tax break plan: apparently any business created in the first two years of a Tory government will pay no employers' NI on its first ten staff, which Osborne claims will create 60,000 new jobs. There's the odd flaw in this plan – he neglected to explain how it would be funded, while the Lib Dems argue that it would put existing firms at a disadvantage. But on the face of it, it seems a bit more business-friendly than the existing plan to increase employers' NI...

It didn't take long for Osborne to announce a base-friendly tax cut – and since he's very unlikely to be cutting many taxes if he makes it into Number 11, it'll probably come as a bit of surprise to the business community. Osborne said it was all about encouraging start-ups: 'Come and make your enterprise here and we will support you,' he tub-thumped. 'We will send a message loud and clear that this country is open for business.'

That's good news for entrepreneurs - particularly since the Government's alternative, as it currently stands, is a 0.5% increase in employers' NI in 2011, 'when recession hit firms are likely to need to recruit again in order to meet demand and grow,' as the Forum of Private Business puts it. The lobby group has been campaigning against this hike for months, so it's naturally in favour of the Tory idea – although it would prefer any firm with fewer than 10 staff to get some kind of discount. Accountancy Grant Thornton (which also welcomed the idea) reckons the plan could be extended to the long-term unemployed and first-time jobbers too.

So in principle the idea's gone down pretty well, although it remains to be seen how Osborne is planning to pay for it: if the money comes from adding to the business tax burden elsewhere, it's going to be a lot less popular. Lib Dem Vince Cable also suggested it would undercut existing firms, whose cost of labour would be higher as a result - although we're not sure how significant this difference would be. Either way, there's a lot more wrangling to come on this one.

In today's bulletin:
Tesco bounces back - but denies Rock bid
Tories take Route 66 on retirement debate
Don't believe everything bloggers tell you
Osborne courts entrepreneurs with NI holiday
Christmas service could make or break retailers