Osborne offers 'equity for rights' employment trade-off
The chancellor has announced proposals whereby workers can forgo some employment rights in return for company shares from their employer.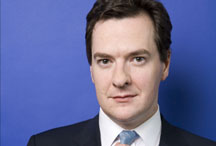 In his speech at the Conservative party conference, George Osborne revealed plans through which employers can offer shares in their company to workers as long as they forfeit some of their existing employment rights. He added that the shares would be exempt from capital against tax, and claimed that the contract would be perfect for workers at fast-growing companies. In a nice little 'ironic' touch, Osborne chucked in the old Marxist mantra, 'workers of the world, unite'. Union leaders everywhere will no doubt have choked on their lunchtime sandwich.
The Treasury has said that any company in the UK would be allowed to use the contract, and that it will come into effect for the first firms in April 2013. Employment rights that workers could give up would include protection against unfair dismissal or redundancy; flexible working rights or time off work for training courses; expectant mothers would have to provide 16 weeks notice of their return date instead of the current eight weeks. In return, workers could get shares valued at anywhere between £2,000 and £50,000 and pay no capital gains tax on the new assets.
So what are the major criticisms? Well, such a contract would mean employees were effectively gambling their future job stability on not falling out with the boss! Easy redundancies in the bad times are probably not what most people want, but employers will be allowed to open vacancies which are based exclusively on this type of reduced-rights contract. The TUC's general secretary, Brendan Barber, said: 'We deplore any attack on maternity provision or protection against unfair dismissal.'