Osborne takes brave pills as Moody's downgrades UK banks
It was only a matter of time before the credit ratings agencies turned on the UK. But things aren't quite as bad as they appear...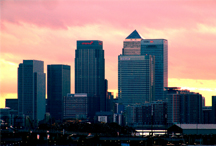 And lo, it came to pass that the all-powerful eye of the credit ratings agencies was cast upon Britain – and the wrath of the agency Moody's was felt throughout the land, after it downgraded at least 12 of that great nation's banks and building societies, causing share prices to fall and Chancellor George Osborne to tremble in despair. Or to leap to their defences, at least: Osborne has gone on record to say that, contrary to Moody's accusations, Britain's deficit reduction plans should be enough to shield the UK from the eurozone debt crisis.
Among the banks hit by the downgrades were the Co-op, Nationwide and Santander UK, as well as Lloyds TSB and RBS, the latter two of which have, not surprisingly, seen their share prices slip by 3.5% this morning. It's particularly worrying for Government-controlled banks like RBS, which saw its rating fall to A2 from Aa3, and Lloyds TSB, which dropped from Aa3 to A1. All a bit confusing – but the gist is that the more As, the better.
Rather sweetly, Moody's was keen to point out that the reason for its decision was not because the banks' financial strength is dwindling, but because the Government is 'less likely to support some firms' if they get into trouble. Which the Chancellor seized with all the alacrity of a five-year-old in a sweet shop: the downgrade was because the government is seen as 'trying to deal with the too-big-to-fail problem', he enthused on this morning's Today programme. 'One of the reasons they're doing this is because they think the British Government is actually moving in the direction of trying to get away from guaranteeing all the largest banks in Britain.' Quite.