Osborne targets the public with £2bn Lloyds sell-off
The Government is keen to return the bank to the private sector.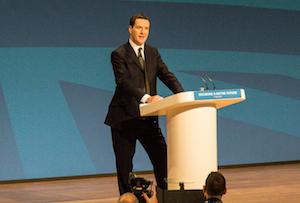 George Osborne has fired the proverbial starting gun on the privatisation of the Government's stake in Lloyds this morning. The treasury announced it plans to sell-off £2bn worth of its 12% stake in the bank, and has focused on attracting retail investors.
Those applying for less than £1,000 worth of shares will be given priority and members of the public will be given a 5% discount on the market price. Investors who hang on to their stake for more than a year will receive a bonus share for every 10 that they buy.
That seems like a bid to avoid the kind of criticism that has followed the Government's sell-off of Royal Mail, which critics have depicted as a gift to the City. Institutional investors were prioritised in that sell-off, but many got out quickly after its share price rocketed by 38%.