Osborne's volte-face on Chinese visas
The chancellor is (finally) making it easier for Chinese tourists to come to the UK. Will it be enough?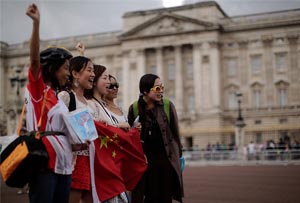 It's become increasingly obvious over the past few years that if the UK is going to pull itself properly out of the economic quagmire, China is going to be the one standing on the edge, offering it a hand.

So the fact that George Osborne has announced during a trip to the country that he is planning to make big changes to the way the visa system works for Chinese tourists has come as very little surprise to anyone.

As it stands, the system has been heavily criticised – both by British business leaders (IAG's Willie Walsh moaned about it just last month) and by tour operators in China itself. In fact, its sheer complexity (which we should point out was a Coalition policy in the first place) has been blamed for losing the UK £1.2bn a year.

The chancellor's changes are threefold: firstly, a fast-tracked 24-hour 'super-priority' visa for Chinese business visitors to the UK. Secondly, allowing ordinary tourists to use the same form to apply for UK visas as they do for the 26-(European) country Shengen zone (although he insisted the UK wasn't even considering joining the Shengen group. That make be a step too far for UKIP et al).

Thirdly, the expansion of the UK's China-based 'mobile' visa service, under which officials visit companies' offices and issue visas there: at the moment, the service is only available in Shanghai and Beijing, but Osborne says he wants to expand it into other cities.

To be fair, the government has been working away at correcting its mistakes on the Chinese visa system for some time. In April, it issued application forms in Mandarin and sped the system up a bit. But it has become increasingly clear the government needed to take more drastic measures: according to the World Tourism Organisation, 149,000 Chinese tourists visit the UK each year, compared with the 1.1 million who go to France.

They also contributed £300m to the UK economy last year – so imagine what that figure could look like if we make it even easier for them to come. Last year, Chinese investment overseas reached $129bn, yet since 2005, the country has only invested $17.8bn in the UK.

'This is good news for British business and tourism,' insisted Osborne. 'I don't want Britain to resent China's success, I want us to celebrate it.'

What's slightly bad news for Osborne is that London mayor Boris Johnson is in China at exactly the same time. Alas: reports from a joint appearance at Beijing University today suggest, unsurprisingly, that Gideon is proving rather less popular than his mop-haired counterpart.

Johnson rebutted a difficult question from a student about the speed at which London is being bought up by Chinese investors by pointing out that 'London was founded by a bunch of pushy Italian immigrants, the Romans – and where would we be without them?'

The chancellor's big job over the next few years is to quell anger about David Cameron's meeting last year with the Dalai Lama. His visit is the first high-level diplomatic meeting between the two countries since Cameron's meeting with the spiritual leader last year.

'We understand we have different political systems… but we have an incredibly important economic relationship and I want to make sure this week we take the next big step in Britain and China's relations with each other so we can create jobs and investment in each other's countries,' he said on this morning's Today programme.

The bad news is that this all comes too late for Golden Week. The first week in October is traditionally when Chinese shoppers board flights to the world's largest shopping destinations and spend like it's going out of fashion. Although London's retailers welcomed thousands of Chinese shoppers, spending an average of £8,000 each on luxury goods this year, the number of visitors could be a lot higher next year.
'Let me make this clear to you and to the whole of China: there is no limit to the number of Chinese who could study in Britain. There is no limit to the number of Chinese tourists who can visit. No limit on the amount of business we can do together,' said Osborne in his speech today.
No limit to the amount of sucking up he's willing to do to get the Chinese and their expendable incomes and sizeable investment on side. About time...