Overtime holiday pay ruling: What does it mean for business?
Small businesses could be liable for billions in backdated claims, but appeals are likely to drag on.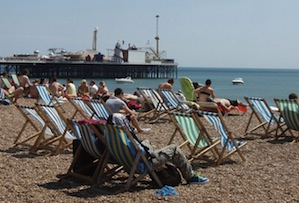 The Employment Appeals Tribunal has made its decision and it's a big one - compulsory overtime should be factored in when holiday pay is calculated.

The EU's Working Time Directive says staff are entitled to four weeks' holiday pay a year, but it doesn't specify how exactly that should be totted up. The UK version of the law, implemented in 1998, had left overtime and variable pay as a grey area and businesses are understandably pretty miffed with the government now that that lack of clarity could be coming back to bite them.

'It is not an exaggeration to say that some small businesses could end up being wiped out if employers who have acted compliantly and in good faith face underpayment claims backdated as far as 1998,' IoD director general Simon Walker had warned before the decision.

'It is like being told the 50mph road you drive every day has changed to 30mph and you now owe them 20 years of backdated speeding tickets,' James Phipps, the chief exec of Swindon-based IT firm Excalibur Communications, told the Daily Mail.

It wasn't, however, immediately clear whether the ruling actually does open the floodgates for a tidal wave of backdated claims. For a start, the ruling is likely to be appealed by employers and possibly even the employees themselves and could even end up back in the EU, meaning the case could stretch out for another six months or as long as several years before any new rules take effect.

There are an estimated 5 million people - a sixth of the workforce - that work overtime, according to the Government. But today's ruling only applies to compulsory rather than voluntary overtime, so businesses will need to wait for another case to work its way through the courts before the legal position of the latter is clarified, Darren Isaacs, a partner at GQ Employment Law, told MT.

Moreover, employees can't claim backdated pay if they left a job more than three months ago or if there was a period of more than three months between any holidays they took. 'The employees are expected to appeal the three months limitation as this effectively turns the judgment into a hollow victory,' Linklaters partner Jillian Naylor said.
But the lawyer for two of the employers that fought the case said that businesses didn't need to worry too much. '[The tribunal] really limited the scope for different holiday pay periods to be linked together as one ongoing series of deductions for historic claims,' Andrew Stones, a partner at Squire Patton Boggs, said, according to the Press Association. 'This is a very significant and positive finding for employers worried about retrospective liability.'

'In terms of what employers should be doing now, it seems sensible to wait and see if any of the parties appeal,' he advised. 'Nevertheless, employers may wish to begin considering how the findings affect the way in which they are currently calculating holiday pay.'

That advice is particularly prescient given Vince Cable has said he's setting up 'a taskforce of representatives from Government and business to discuss how we can limit the impact on business. Neither the bureaucracy or the judiciary are known for their speedy decision-making.