Own goal? Ashley reduces stake in Sports Direct
Mike Ashley is one of the UK's shrewdest entrepreneurs - and he's reducing his stake in his own company.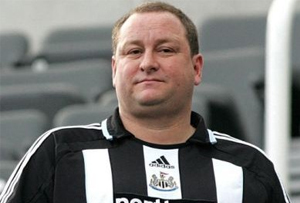 Sports Direct founder Mike Ashley is one of business' opportunists: having survived the beginning of the downturn through a combination of shrewdness and brute force, he then snapped up rivals including JJB Sports and Republic, the 'premium lifestyle' clothing brand.

Now, though, Ashley (never knowingly overdressed) has sold up 2.7% of the company, netting his own firm, MASH Holdings, a cool £106m – despite the fact that the shares were sold at a 7% discount to yesterday's closing price of 712p.

It's not like Ashley is exiting the business altogether – MASH still has a 61.7% share in the company, worth £2.5bn – but combined with the discount, investors have taken this as a sign: shares dropped by more than 5% this morning. That could also be to do with the fact that it's not the first time this year he's reduced his stake: in February he raised £100m, selling off 4.2% of the company. Although this latest sale prohibits him from selling off any more of the company for the next 180 days.

Sports Direct shareholders, though, should be reasonably calm, despite the fall in prices. Even with this morning's drop, shares have risen by about 75% since the beginning of the year, causing it to enter the FTSE 100 last month.

And yesterday, the company reported sales in the nine months to the end of September had risen by 15%, to £464m, while gross profits increased by 19% to £200m.

Chief executive Dave Forsey attributed 'an excellent "back to school" period' (jolly hockey sticks all round).

'To continue to produce these numbers, especially within sports retail, clearly demonstrates the strength of our business model,' he trilled.

Still: there's no denying that Ashley (also the owner of Newcastle United football club) reducing his stake in the company will raise eyebrows. Investors would do well to keep an eye on what he's going to do next.