Pandas go unobserved as US shutdown begins
Congress has been unable to reach a deal on its budget, meaning 700,000 public sector workers will go unpaid.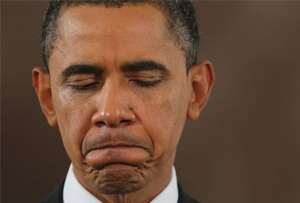 The Great Shutdown is upon the US, and more than 700,000 public sector workers in services considered 'non-essential' have been sent home without pay. National parks are closed, the Internal Revenue Service has been 'substantially' cut back, rubbish collection in Washington DC has ceased. The 24/7 webcam at the National Zoological Park showing the development of its baby panda will be switched off.

There is one silver lining, though: traffic wardens aren't on duty, either. Americans can park on double yellow lines with gay abandon.
The shutdown is the result of squabbling in Congress between Republicans and Democrats over a clause in the national budget that implements 'Obamacare', President Obama's healthcare programme. Republicans are stubbornly refusing to approve any bill containing Obamacare, to the point where it has now become a staring contest between the two sides. How long can Obama hold out before he blinks?

Considering it was one of the flagship measures in the President's election campaign, critics have argued that Republicans are therefore trying to subvert democracy. For those sitting at home worrying about how they're going to pay their bills, democracy may begin to lose its importance. But Obama is adamant.

'What… will not be furloughed are the bills that they have to pay – their mortgages, their tuition payments, their car notes,' he said last night.

'These Americans are our neighbours… they serve their country with pride. They are customers of every business in this country.'

An interesting side-note is pointed out by Citigroup: because the US Labour Department is considered 'non-essential' it might not be able to compile its employment data, which heavily informs US monetary policy and is therefore one of the most closely-watched economic indicators in the world.

Last time a shutdown took place, in 1996, the figures were delayed by two weeks, and even then they were subject to 'significant backward revisions', suggesting they'd been compiled rather hastily. Considering Fed chairman Ben Bernanke is likely to use the data as one of the deciding factors on when and how to begin cutting back on quantitative easing, this could mean tapering is delayed. As the FT put it, 'QE: to infinity and beyond'.
Markets may be jittery - the dollar is trading at near-seven year lows - but in truth, investors are more worried about the impact of the debt ceiling question. In the next couple of weeks, the US Treasury will run out of cash to pay its bills. The government needs to raise its borrowing limit so it can make interest payments, thereby avoiding a default. In 2011, a similar debate was resolved at the last minute (but not before the S&P 500 dropped 20% and Standard of Poor's stripped the US of its triple A credit rating). We can only hope the same thing won't happen again.

Until then, all eyes are on Japan, where Shinzo Abe, the 'rockstar' PM who coined the term 'Abenomics', will have this plans put to the test today when he decides whether or not to increase the country's sales tax from 5% to 8%.

If he decides to implement it, it's expected to raise 7.5tn yen (£47bn) – but is the economy's recovery robust enough to withstand it? After years of stagflation, Japan's economy jumped by 3.6% last quarter, and Tokyo's stock market has jumped by 42% over the past few months. The new sales tax could be a career-defining triumph for Abe, or it could be the straw that breaks the camel's back, stopping consumers from spending and plunging the country back into the doldrums.

Nail-biting stuff, on both sides of the Pacific.